include "/var/www/vhosts/sun3arc.org/htdocs/include/hdr1incl.phtml" ?>

include "/var/www/vhosts/sun3arc.org/htdocs/include/hdr2incl.phtml" ?>
Overclocking your System
---
Description:
The CPU and the system are clocked by a 40MHz Oscillator. This oscillator can be easily replaced with a 48MHz or 50MHz version. I know several 3/60 running fine with 50MHz oscillators, one is running 24h per day for a couple of months now. If your SIMM's are fast enough and you don't have a CG4 in your machine you can probably try even higher speeds.

I've tried a 59.9MHz and 60MHz oscillator, and the machine ran for a few minutes, but failed, when it heated up. The speedup was NOT proportional to the clock frequency; the machine was only as fast as with 50MHz. There seems to be a point, where a higher clock frequency results in a slower CPU speed (perhaps, because a second wait state has to be inserted). With a 68030, this point is between 48MHz and 50MHz. I wasn't able to try a 55MHz oscillator, because the loaned one was defective.

Hey guy's! Clean the airflow from dust and replace the old fan by a new (better) one! The machine will die horribly, if you don't take precautions against overheating!!!
Location:
The oscillator's ID is U110. In the picture below you can see U110 (the upper one) and it's environment.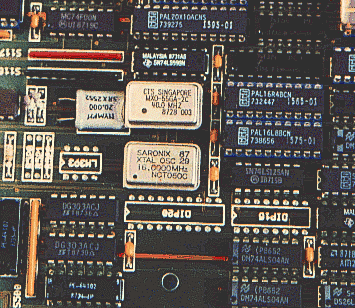 Result:
The CPU-Performance grows in relation to the clock-speed and I've got a better filesystem-throughput on my SCSI-Harddisk. I think this resluts from clocking U606 at the new speed, too.
Clock-Schematics:
Drawing by Jerry Koniecki.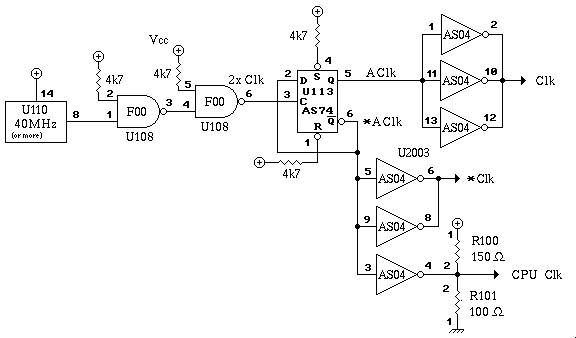 How you easily can see most of the system-clocks are generated by U110 and so replacing this one gives your system a nice speedup (and warmup).

Peter Koch include "/var/www/vhosts/sun3arc.org/htdocs/include/footer.phtml" ?>